Wild daffodils at Penrith Castle
In September we are planting wild daffodils with the new pupils at Ullswater Community College along the lower roadside bank of the Castle.
POSTPONED AS GROUND TOO HARD.
Planting Saturday 18th September 1-5pm with UCC students and families joining in. Continuing on Sunday 11-12pm (if any bulbs are still to plant.)
We are looking for donations to help pay for the daffodils - mames will be added to a remembrance board next to the daffodils when they flower.
Good goods - Free!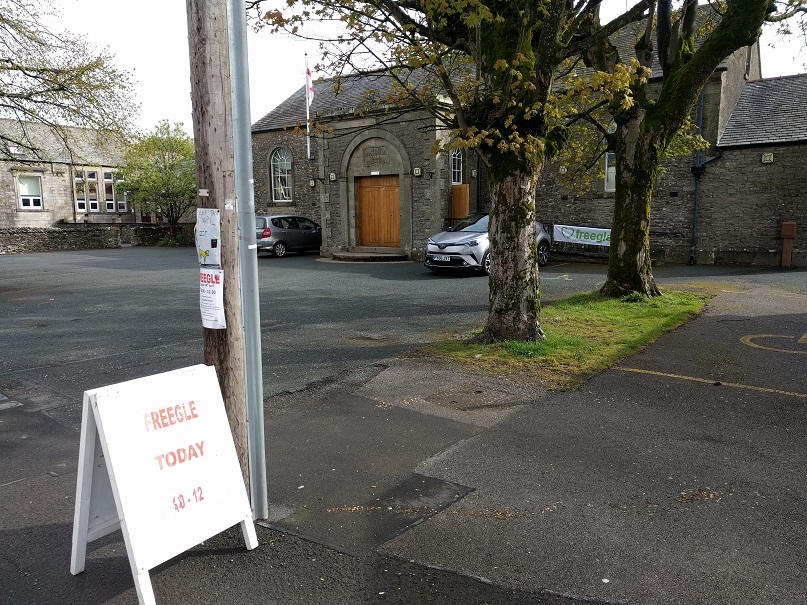 Let's share the world's resources: hand on things when you've finished using them to others using Freegle online or at one of the free give and take events:
Give and Take - Saturday 30/10, 10am - 12 noon, Memorial Hall, Shap.
Action on Plastic
PACT has begun a campaign to reduce single-use plastic in and around Penrith, thanks to funding from Cumbria Council's Waste Prevention Fund.
We've started a Refill Penrith/Cumbria scheme to let you refill a water bottle wherever you are
And now we'd like you to make some pledges to reduce your use of plastic
Keep Penrith Tidy - Love where you Live
Appleby Edibles
Appleby Edibles returns to the polytunnel! We are all excited that AE is back at the AHC site and all keen to get growing, with an enthusiastic membership currently of 15 people. This is hugely encouraging. Please keep coming forward with your great ideas for improving the organisation.
Spring Meeting and AGM
Our meetings have been quite intermittent since last February, so, beginning with a short AGM the next will now be Saturday May 15th 2pm at the Garden. Strictly socially distanced. It might be best to bring your own refreshments with you this time.
Environmental action in Eden District
PACT aims to increase our ability in Penrith & the Eden Valley to cope with the challenges of peak oil, climate change and economic sustainability. PACT is an environmental group started in Cumbria in 2008, and is part of the growing transition town network in the UK and around the world. PACT is made up of a group of like-minded and enthusiastic volunteers, committed to making a real difference in the local community.
Penrith Community Gardeners update
We will start gardening again in February 2021 (when weather permits) in the raised beds and peace garden at the Salvation Army in Hunter Lane on Tuesdays from 10am. We'll be gardening there and around town in our other planters for an hour and then meet back at the SA for group coffee at 11am.
Anyone is welcome to join in and help to make our town look even better. Also a chance to grow fruit and veg and be supported by folks who know how to do it! Find us on Facebook
More info on community gardening in Eden
Films and reports